As I
explained yesterday
, my reflections on this year's UN Forum on Business and Human Rights comes in the form of the "Cheers and Jeers" that used to appear in my hometown newspaper. Yesterday, I started with the "cheers" (positive notes) and today I'll conclude with the "jeers" (problems and constructive criticism).
More extensive criticisms will come, I'm sure.
Jeers
1. That Pavel Sulyandziga, a member of the UN Working Group, was unable to attend.
It used to be that fame for a human rights defender also meant protection. States like Russia and Honduras avoided direct attacks against their known activists lest the world turn their attention to atrocities in the state. This reality partly explains why Nobel Laureates like Aung San Suu Kyi and the Dalai Lama remained under house arrest or in exile while lesser-known activists were thrown in jail or killed. It is also the very premise of
Peace Brigades International
's accompaniment work.
It is therefore particularly disconcerting that a member of the UN Working Group on business and human rights has had to
seek political asylum
because his work as a human rights defender and indigenous leader has left him and his family vulnerable.
Pavel's absence, for anyone who was used to his clear presence in past Forums, was unmistakeable even before he appeared on the big screen during the final plenary. Pavel's asylum claim -- and as a result his inability to be in Geneva this year -- follows the noted
killing of Berta Cáceres
, whose fame was supposed to protect her, and
an attack
on her daughter Bertha Zuñiga (sister of last year's closing plenary keynote speaker Laura Cáceres). Bertha's leadership role, her fame, and the infamy around her mother's death should have protected her from attack as well. Hundreds of human rights defenders are being killed for their work on business and human rights. And the sad reality is that we cannot secure justice for all of them straight away. But if we allow our most famous activists to be murdered and their killers to enjoy impunity, then there is no hope for justice for the most vulnerable and newest human rights defenders.
Russia and Honduras are under ongoing obligations to investigate, prosecute and punish, respectively, the threats against Pavel and the attacks against Berta and Bertha. I doubt either state will ever meet their obligation, which is part of the problem. These attacks send a clear signal of just how precarious our current situation is, and how vulnerable to attack members of our community are.
But, that's also part of the point of such high-profile attacks, isn't it? If a member of the UN Working Group on Business and Human Rights cannot attend the UN's annual Forum for fear of an attack, can any of our grassroots and community organizers believe themselves to be safe? The message to the less-famous is clear: shut up or risk your life and the lives of those you love.
Instead of allowing Pavel's absence to be used to silence grassroots and community organizers, I hope it serves as a call to action for the rest of us to use our privilege to protect and elevate these voices. In 2012, the US passed
the Magnitsky Act
prohibiting travel to the US by individuals responsible for the death of a tax accountant who investigated fraud and corruption by Russian tax officials. The US later expanded the legislation into a
Global Magnitsky Act
(see HRW's brief
overview here
), which can be used to take action against foreign individuals implicated in gross human rights abuses. Their accounts can be frozen and they can be banned from traveling to the US.
Canada
has a similar law, which has already been robustly acted on in regards to
Russia, Venezuela, and South Sudan
. The
UK
has an
intentionally less robust
(and therefore less effective) version of the law as well.
The Magnitsky Act has
worked
on Russia, although admittedly only to moderate success. The
anger and vitriol
Russia
expresses
when new Magnitsky legislation is adopted is a testament to the power of the law. Expanding its use -- ensuring that systematic and state-sanctioned attacks on human rights defenders will be punished -- is necessary. We need four things:
States with Magnitsky laws should identify Honduran leaders to be sanctioned because of Berta Caceres's murder and because of the threats against Bertha Zuñiga. Thanks to an investigative report by a panel of experts, we know who Honduras should be pursuing for Berta's murder, and we know a lot of the evidence against these individuals.
Serious consideration is needed as to how the global Magnitsky Act can be used to respond to threats like those experienced by Pavel and his family, which force defenders into exile even if they do not culminate in murder.
More states need to adopt Magnitsky laws and use these laws for the benefit of human rights and land defenders.
Corporations who are pro-human rights, and who abide by international standards for business and human rights, should pressure their governments to adopt global Magnitsky laws and to use them to sanction business and human rights violations.
I realise that Pavel's absence is something the WG, and Pavel himself, could not control. But it is something the rest of us can and should respond to.
2. Development and Remedies are Not the Same Thing.
There is a time and a place to brag about your development project. It is not at a Forum about remedies. This was the most annoying, repetitive issue this year. You cannot build a school because you polluted a community and then stick a "remedies!" sticker on it and move on. Similarly, if you benefitted from child labour, building a school is not an adequate reparation. It's a start, but it doesn't get you there.
In a Forum dedicated to remedies, too many states and businesses failed to address remedies. Or they talked about the process of their remedies but not their substance. Substantive remedies and development are not the same thing. We
need
states and businesses to understand that.
Now, I loved the opening plenary. It was
fantastic
. But I don't remember an extensive focus on remedies within the plenary. Seeing how that played out over the next 2.5 days -- with people confusing remedies and development, or ignoring the full character of remedies -- I think we could have benefitted from a little overview of what is expected when we discuss remedies. I don't think every panelist needs to address that, but I think there should've been one designated legal mind who reminded the audience what we mean when we discuss 'remedies' and what the demands are, both substantive and procedural. If we continue with the pillar-based themes -- and,
again
, I really hope we do -- I hope we somehow integrate a 'common language' discussion into the opening plenary.
3.
There were still times in which
the role of women
made me uncomfortable. I recognize that we had at least two all-women panels and that more women appeared on behalf of businesses this year. But, these panels were noteworthy because they still largely remained the exception.
Too often, we saw a single woman on an otherwise all-male panel. Such panels now annoy me almost as much as all-male panels. We know how women are listened to and there is enough evidence to suggest that women are listened to in a different way when there is one of them at the table versus when there are two. Yet, the one-woman demonstration was on display at the Forum.
There was at least one panel where they clearly so desperately wanted a non-critical woman that they got someone who had no background in this area and didn't know what she was talking about and put her on a panel she was ill-equipped to handle. How she was used was so appalling to me that not only did I not tweet about her talk out of pity for her, but I refuse to name the panel even now because she should not be publicly humiliated simply because someone belatedly realised they should have "gender balance" on their panel.
Edited to note that in this context the "they" does not refer to the WG or the Forum Secretariat. Based on the circumstances, I do not believe they were responsible for the choice of speakers on this panel.
There were also several panels in which men were positioned as 'experts' and women were positioned as 'victims' or 'rights-holders.' Yes, women can be anything and therefore can be victims' voices, but women can also do a lot more than just speak from the heart or speak about their own experience. We need to stop thinking of "gender balance" as a numbers-counting exercise. You can't go "oh, well, there's one woman there, so we're golden." We need panels that feature women as experts. We need panels in which the women are empowered to challenge, disagree with, and respond to the men as their equals (and sometimes their superiors).
4.
That leads me to my
ongoing complaint
: the
lack of academics
generally and the lack of women academics specifically. I know I've discussed this before, but I'll keep discussing it until there's a noted improvement. There are times when academics fill a void no one else can or should. For example, on the Chinese businesses panel, a non-Chinese academic could have been a nice independent voice that pointed out that development and remedies are not the same thing, that China raises unique state-business nexus issues that change the nature of its obligations, that we need China to develop accessible remedies for the benefit of those harmed by their corporations overseas, that China needs to ensure human rights are protected within the context of investment contracts, etc. I'm aware that such a voice would never be approved by the state, but that should be part of the conditions for receiving a panel presence at the Forum. If you want to promote yourself and your approach to business and human rights -- and let's be real, that's why states and businesses have panels at the Forum -- you should be subjected to scrutiny, and the WG should ensure that happens by ensuring each panel is balanced.*
*I realise this is unfair to the WG, who do their job on a voluntary and unpaid basis and for whom ensuring each panel is balanced would probably add (a hyperbolic) 16,000 hours of work, but someone needs to be doing this and they're the only ones (besides OHCHR) who can.
Relying on Q&A to present critical voices is unwise for several reasons. First, half the panels run out of time during the Q&A. Second, several panelists just clearly ignored critical questions and never felt the need to answer them. While this may remain true if the same questions are posed by a fellow panelist, it is simply much harder to do. Third, there's a randomness to the Q&A so that means you're not necessarily securing criticism. Fourth, there is a benefit to the simultaneous translation often offered during the sessions. I was invited by one speaker to discuss my question after the panel (because they chose not to answer it fully even though there was time for it), but I couldn't ask the question in Japanese and he -- apparently? maybe? seemingly? -- couldn't listen to it in English. So, I will now beg -- because I am not above it --
beg
the members of the WG to ensure that there are independent voices capable of being critical on each panel moving forward.
5. Where were the states??
And do they know they can make good faith, civil, and non-confrontational recommendations in situations other than the UPR? The Forum, which is premised upon and mandated to be a place for sharing and cooperation across stakeholder groups, is a great place for states to carry over all the lessons they've learned on constructive criticism and cooperation at the UPR. That simply didn't happen this year.
Andrea Saldariagga noted that they could not get a state to appear on their investment law panel (which is sad because it was a really good panel this year). I noted lots of state placards around the various rooms but never heard a state representative ask a question or make a recommendation to panel of a general nature. And while there were state representatives on panels dedicated to developments in their own state (Colombia, China, Myanmar), they didn't seem to appear on a lot of other panels. I will commend the Government of Brazil, who responded to direct criticism from one panel with promises of listening and engaging in dialogue with stakeholders. During a Forum in which it felt like states only appeared on "friendly" panels, this ends up being praise-worthy. That is rather sad.
If stakeholders are talking and states aren't listening, there's little benefit to the Forum. We can't make the institutional changes necessary without states. And while Room XX is very pretty, if I'm only going to talk to academics and NGOs we should do that where we can buy cheep pizza and beer immediately afterwards.
6. 3 hour panel sessions?
Okay, so clearly none of the academics on the WG were responsible for this because academics know you simply cannot maintain focus for 3 hours while people talk at you. We can either have 3 hours sessions or we can have panel speakers, but we cannot have both. Despite feeling really engaged with and committed to the topics I attended this year, by hour 2.5 of each session, I felt like some combination of these guys: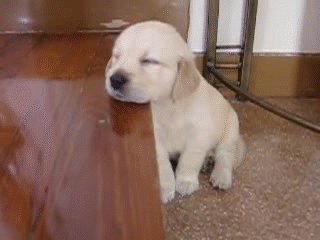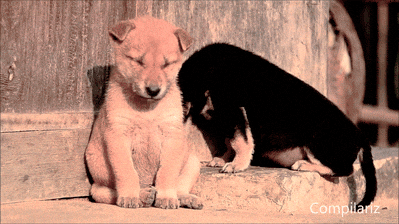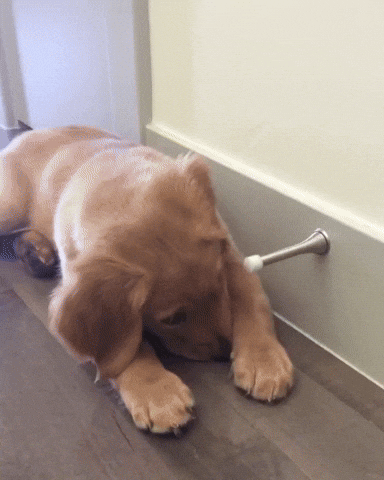 In case you're wondering, in order, that's: sleepy, sleepy, and irrationally confused and annoyed by simple things. If it wouldn't have compromised my reputation, I probably would've ended up like this more than once: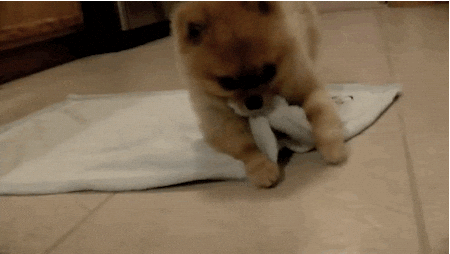 Okay, that's an exaggeration, but how could I not include that adorable puppy in this post??
7.
While I love the security guards, I definitely do not love the
elitist name badge system
. It's not just colour-coded now, but it brands you with a letter. In the case of academics, we were literally wearing a "
Scarlet A
". Listen, I know we're not loved at the Forum, but this was a bit much, wasn't it? (kidding. sort of.) The badges made the writing easier to read, but I suddenly felt like there was a clearer pecking order, and that extended well beyond the legitimate color-coding necessary for fast security procedures.
I also ended up spending way,
way
too much time trying to decipher the meaning of the letters. I got A, I, N, G, and O, but what the heck are R and Z for?? (Also, if we're going to have letters in the future, can't there at least be a B so we could play badge-based Bingo?)
So those are my 'jeers' for this year's Forum. I was much more pleased with this year than recent forums, but there are always some things that can be improved upon and I hope the WG will consider some of these suggestions.
(special note to Debbie: I was going to include a single puppy at the end of this post just to improve your day, but then I found all the adorable sleepy puppies and ... it might've gotten a little out of control.)